Scott Graham, MD
Shoulder and Knee Specialist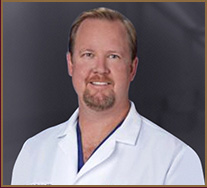 Scott Graham, MD
Fellowship Trained Shoulder and Knee Specialist, Sports Medicine, Arthroscopy, Ligament Reconstruction, Cartilage Restoration
Dr. Graham is a native of Santa Barbara where at Dos Pueblos High School, he competed on their waterpolo, basketball, volleyball and tennis team as a multi-team Varsity Letterman earning All CIF 4A Honors in the 1980's.
After obtaining his BS from USC and graduating from USC School of Medicine, he completed a residency in Orthopedics at UC Irvine Medical Center; one of the premiere "Hands On" training centers for orthopedic surgeons. During his residency, Dr. Graham worked at the Kerlan-Jobe Orthopedic Clinic as an assistant team physician with the Los Angeles Lakers and Anaheim Angels.
Dr. Graham then traveled to the prestigious Cleveland Clinic for further training with a Fellowship in Sports Medicine. During his Fellowship, he was the Team Physician and Orthopedic Consultant for the NFL's Cleveland Browns, NBA's Cleveland Cavaliers and the WNBA's Cleveland Rockers. He worked at the NFL Combines evaluating players for the NFL Draft process along with Rookie and Veterans Camps.
During his training, Dr. Graham has published many research articles in peer reviewed journals, has presented Nationally and Internationally his work and has received notable awards for his work in Sports Medicine research.
Dr. Graham has been the team physician for Santa Margarita Catholic High School Athletics for many years and continues to care for and treat athletes as a Sports Medicine Specialist for nearly all the regional high schools and colleges in both North and South Orange County. He is the Medical Director of Athletics for Concordia University and is the Program Director for Athletic Training at the University.
Dr. Graham is a Sports Medicine specialist, providing advanced and minimally invasive care for all sports medicine injuries. He specializes in knee and shoulder arthroscopy, minimally invasive surgery, PRP (Platelet Rich Plasma) treatments and Cartilage Restoration and Reconstruction.