News/Media
April 1, 2022
Kaden Giles Is A Top Notch Pitcher For San Clemente!
The right handed senior pitcher allowed one run and four hits over 6 1/3 innings and struck out four. The win was his sixth of the season and he has a 1.10 ERA with 35 strikeouts and 38 innings.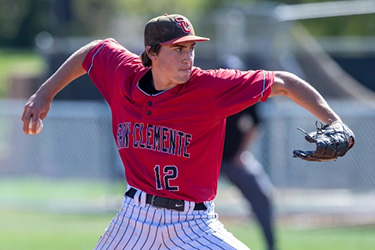 November 5, 2021
Sage Hill 8 Man Football Wins First Round Playoff Game of 2021!!
In the first round of the 8 Man Division 1 Football Championship, Sage Hill (#6 ranked team) defeats Chadwick of PV (#3 ranked team) 26-20 in a big comeback win after being down 7-12 in the 3rd quarter.
Sage will play Cate (#2 ranked team) next week in the semi finals at home.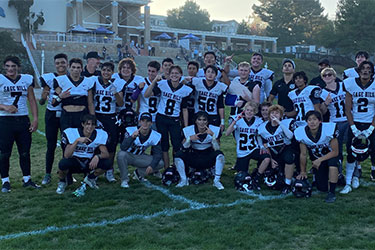 November 1, 2021
4 things to know about Titans running back Jeremy McNichols, Derrick Henry's backup. SMCHS Graduate!
McNichols is from Long Beach, California. As a kid, he and fellow NFL player John Ross played in Snoop Dogg's youth football league in Long Beach, where his versatility led to him earning the name "McWeapon". He attended Lakewood High School before transferring to Santa Margarita Catholic High School for his senior year.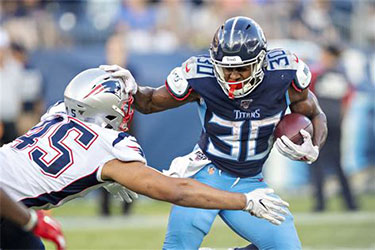 October 21, 2021
Johnny Stanton IV, Browns Fullback, Gets First NFL Touchdown!!
CLEVELAND, Ohio — Case Keenum and the Browns answered a long Broncos touchdown drive with one of their own in the third quarter on Thursday night. After Keenum scrambled for a fourth down, he found Johnny Stanton IV in the flat for a two-yard touchdown.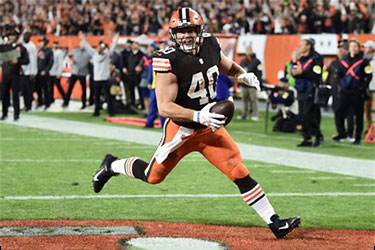 September 12, 2021
Out of concussion retirement, SMU's Grant Calcaterra chasing big football dreams and succeeding!!
In August of 2020, Grant was on the brink of a new journey – to become a firefighter in his home state of California. He accepted a job as an EMT with an ambulance company. But on the eve of his first day of work, Calcaterra realized he had unfinished business on the football field. SMU became the benefactor of his choice to return.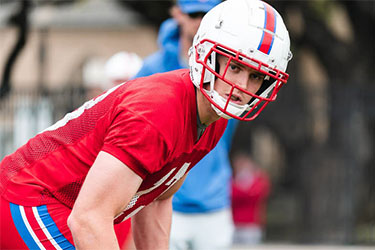 August 28, 2021
49ers Sign WR River Cracraft; Waive WR Richie James
The San Francisco 49ers today announced they have signed WR River Cracraft to a one-year deal. In order to make room on the roster, the team waived/injured WR Richie James.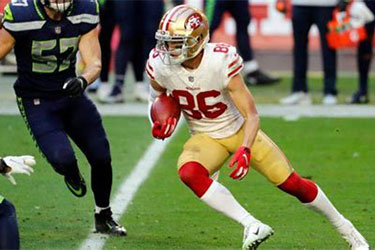 August 26, 2021
Servite's Keyan Burnett powering his football dreams by building strong connections!
"Keyan is one of the hardest workers on the team," Servite coach Troy Thomas said. "His actions show us daily how he loves his teammates."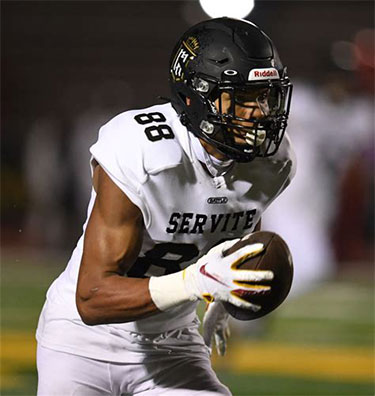 August 1, 2021
Los Angeles Chargers Sign Quarterback KJ Costello!
The Los Angeles Chargers today signed quarterback KJ Costello to the team for pre-season camp.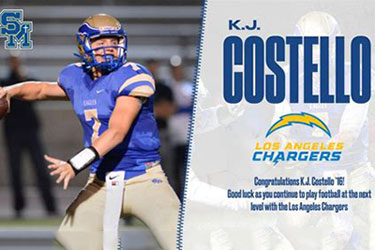 December 27, 2020
Quentin Lake says he'll return to UCLA for 2021 season. Plans for NFL Draft 2022!
UCLA's secondary will return one of its top playmakers next season after redshirt junior safety Quentin Lake announced on social media Sunday that he will be back in 2021.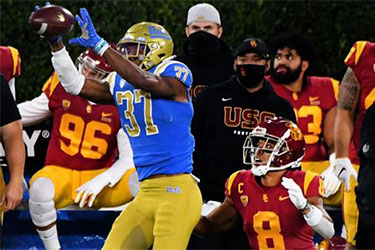 December 5, 2020
SMCHS 3 Star Offensive Lineman Brodie Crane has multiple offers!
Crane, a Santa Margarita, California, resident, flipped to Navy after initially committing to Air Force in December. The 6-foot-3, 290-pounder was swayed by assistant Steve Johns, who has recruited the West Coast for Navy since joining the staff in 2008.
Crane, who played both center and guard for Santa Margarita Catholic and J Serra, also held a scholarship offer from Arizona State.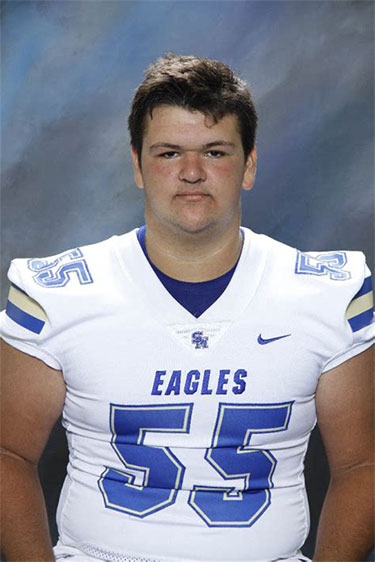 September 26, 2020
Mississippi State's KJ Costello destroyed SEC passing record in upset over FBS National Champions LSU!!
The clear star of the game, Costello completed 36-of-60 passes and threw for 623 yards, five touchdowns and two interceptions. That was easily a career-high for the senior transfer from Stanford. With that impressive season-opening performance, he set Mississippi State's single-game passing yards record, breaking the 508-yard mark Dallas Cowboys QB Dak Prescott set in 2015.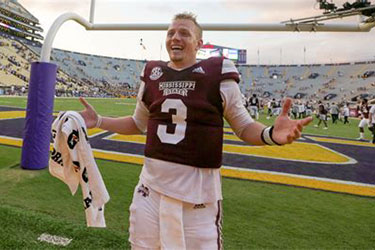 August 28, 2020
Brothers Brenden and Colin Schooler leaving UA to pursue opportunities to play this fall in Texas!
The Schooler brothers announced Wednesday that they're entering their names into the NCAA transfer portal. Both are graduate transfers who'd be eligible to play immediately. Both said they hoped to land at schools that are still planning to play this fall. While the Pac-12 and Big Ten have decided to nix fall sports, the ACC, Big 12 and SEC are moving forward with modified football seasons for the time being.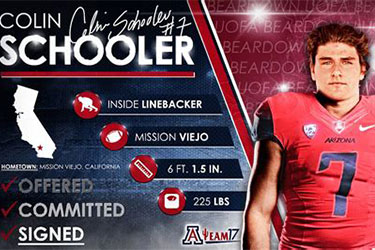 June 28, 2020
OC Varsity Athletes of the YEAR 2020 - Lance Keneley
Lance Keneley with a 4.63 GPA and a star three sport athlete (Football, Wrestling, Track and Field) is honored as the Registers Orange County Male Outstanding Competitor. He has committed to Stanford.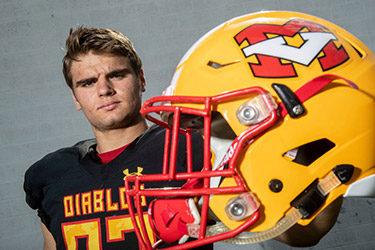 June 23, 2020
Why K.J. Costello is so important to Mississippi State in 2020
The Stanford graduate transfer is a great fit in coach Mike Leach's Air Raid offense. As Fox Analyst Reggie Bush puts it"Costello is the biggest impact transfer in the whole sport."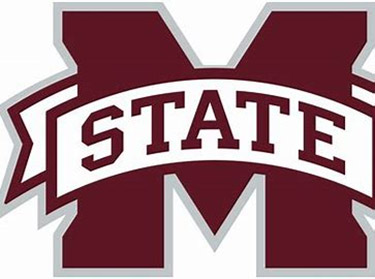 June 17, 2020
2020 USC Football Profile Card: Brett Neilon
Brett Neilon is expected to be the starting center for the Trojans during their 2020 campaign and expect to excel for the Trojans. An elegant pass blocker, Neilon is competent as a run blocker and a pass blocker.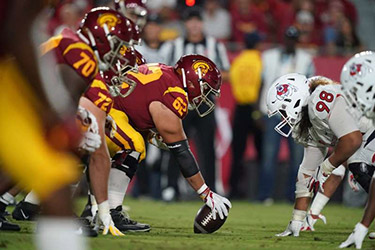 June 4, 2020
UCLA's Quentin Lake Named to Lott Trophy Watch List
The Pacific Club IMPACT Foundation announced on Thursday that UCLA defensive back Quentin Lake has been named to the Watch List for the 17th annual Lott IMPACT Trophy. IMPACT stands for Integrity, Maturity, Performance, Academics, Community and Tenacity. The award will be presented on Dec. 17 at The Pacific Club in Newport Beach.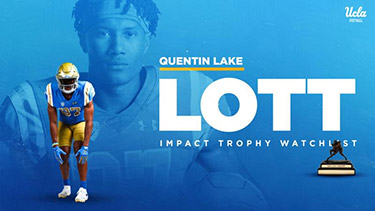 March 27, 2020
5 Locals Earn 1st Team All League
Sage Hill School junior midfielder Lexi Van Den Bosch, sophomore midfielder Lauren Graham and freshman defender Elaine He have, and Pacifica Christian Orange County senior midfielder Brooklyn Motske and sophomore defender Logan Brayall have earned first-team All-San Joaquin League honors in girls' soccer.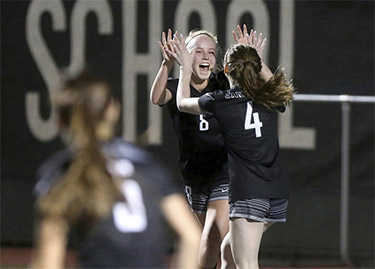 Sage Hill's Lauren Graham (8), shown celebrating a goal against Pacifica Christian Orange County on Jan. 7, was a first-team All-San Joaquin League selection.
November 21, 2019
Concussions prompt Oklahoma TE Grant Calcaterra to retire. Choses Health.
"To everybody who's been a part of my football journey, Thank You."""Over a month ago, I received a concussion in practice," he said in the video."What most of you may not know is that I've had my fair share of concussions in my career. I spent countless hours visiting with OU medical professionals and specialists around the country. Ultimately, I came to the conclusion that it would be best for me to step away from the game."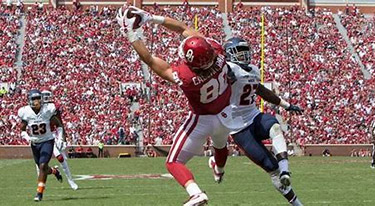 October 17, 2019
From Tokyo to Troy: USC center Brett Neilon and his unusual football journey to SMCHS and USC!
Brett Neilon didn't play organized football until he was in high school. That's unusual for a person who would go on to be a collegiate athlete, as Neilon has done as an offensive lineman at USC.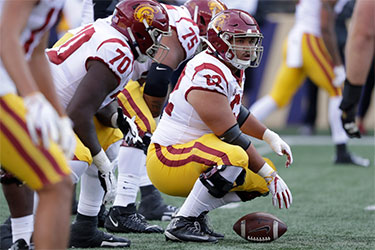 Sept 10, 2019
Sarah Herron Named Among 30 Finalists For NCAA Woman Of The Year
Concordia University Irvine women's track and field star& Sarah Herron has been selected as a Top 30 honoree for the 2019 NCAA Woman of the Year Award. It's the first time in school history that a CUI student-athlete has advanced this far as a nominee and reached this rarified air.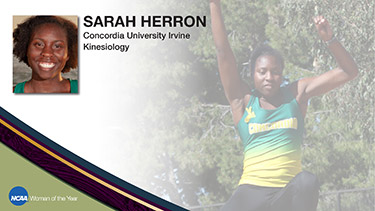 August 14, 2019
Five Burning Questions: Broncos WR River Cracraft on the art of catching punts.
With the punt return game for the Denver Broncos coming under such close scrutiny this preseason, wide receiver River Cracraft — among his other offensive duties — has become one of the go-to sure-handed special teamers for the squad.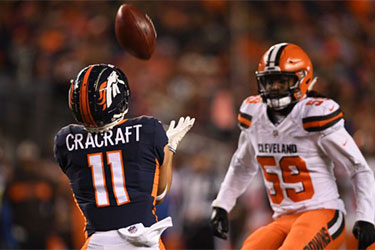 August 12, 2019
USC Football: Munir McClain having a strong showing in fall camp.
While he didn't receive a lot of fanfare coming in, Munir McClain is turning some heads at fall camp.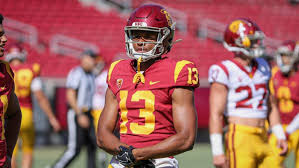 June 20, 2019
Capo Valley receiver Jake Muller commits to play Division 1 football for Cal
Capistrano Valley junior receiver Jake Muller has committed to play football at California Berkeley."He is all of 6-5 and weighs about 225 pounds. Used primarily as a receiver in the past, he runs great routes, catches the ball exceptionally well, and has a lot of athleticism for his size. We look forward to using him in some of our tight-end sets and also being able to split him out at receiver without changing personnel groups" stated his coach.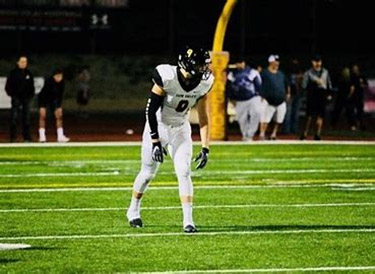 April 30, 2019
Angels pitcher Griffin Canning's debut is solid in win over the Blue Jays.
Griffin Canning, the Angels' top pitching prospect and the first draft pick under general manager Billy Eppler, was dominant in his first MLB start.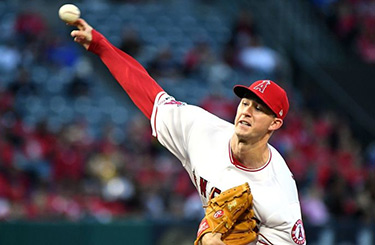 April 3, 2019
JSerra's Isabella D'Aquila is the Orange County girls soccer player of the year for third time
Congrats to JSerra's own phenom on her 3rd OC Player of the Year not to mention the Gatorade National Player of The Year!!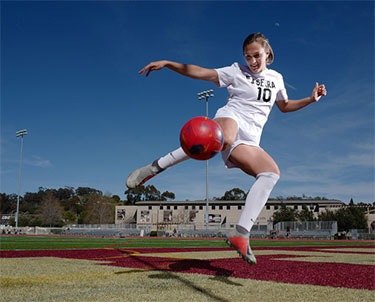 April 1, 2019
Santa Margarita wins second straight national high school hockey title
Congrats to the SMCHS boys hockey team for winning yet another National Championship! For the second year in a row, they bring home the prize! Playing in the Anaheim Ducks High School Hockey League, SMCHS players won their second straight high school national championship when they defeated Edina (Minn.), 4-1, in the championship game in Strongsville, Ohio.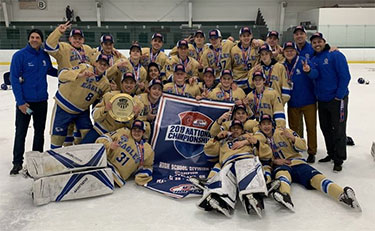 January 15, 2019
Concordia University Irvine Inducts Dr. Scott Graham into Hall Of Fame!
As a 2019 inductee, Dr. Graham has been inducted into the Concordia University Kenneth A. Walker HOF for his Contributions to the University since 2001!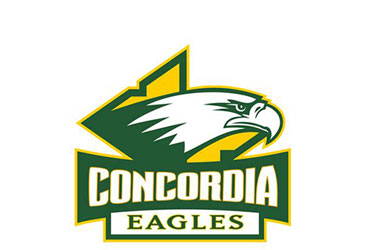 December 19, 2018
Early Signing Day 2019: Three-star wide receiver Munir McClain signs with the USC Trojans
Santa Margarita and J Serra HS three-star wide receiver and younger brother of USC linebacker Abdul-Malik McClain officially signs with USC Football!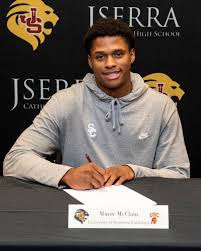 September 07, 2018
Whicker: Brett Neilon rides 'whirlwind' into USC's offensive line
USC offensive lineman Brett Neilon get his first start at center this weekend! Great story about his upbringing in Japan and only becoming a football player as a SMCHS freshman!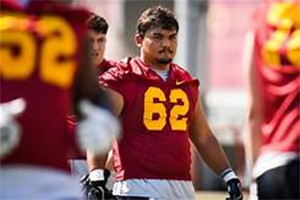 June 16, 2018
USC Moms Corner: Meet the McClains - USC's Newest Football Family
Learn about true freshman Abdul-Malik and his soon to be USC freshman brother Munir from Santa Margarita and J Serra High School football programs. They are soon going to be members of the Trojan Football Family. Their mother Shan has some wisdom to share about being a parent of exceptional athletes.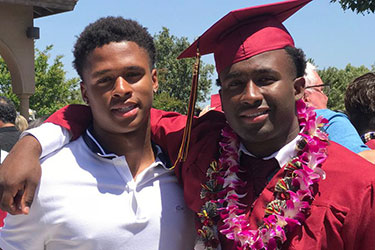 May 27, 2018
Dominique Ruotolo finishes first in both the long jump and triple jump in the CIS-SS Masters Meet just after her high school graduation ceremony!
Mater Dei's Dominique Ruotolo started her Saturday by wearing a cap and gown and being awarded her high school diploma. Ruotolo, who had to leave Mater Dei's commencement ceremony early in order to make it to the meet on time, finished first in the long jump and triple jump, hitting distances of 19-feet, 2-1/2 inches and 41 feet, ½ inch, respectively.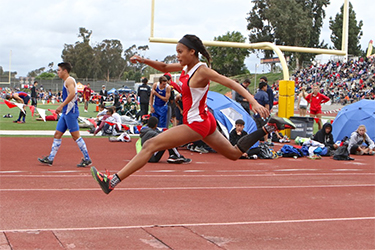 May 7, 2018
Johnny Stanton is in invited to Minnesota Vikings Camp!
What a blessing this weekend has been. I was one of 31 guys invited by the Vikings to tryout for their 90-man camp roster. Through hard work and God's Grace, I signed a contract with Minnesota and I am now able to call myself a Viking. Here's to competing at the next level!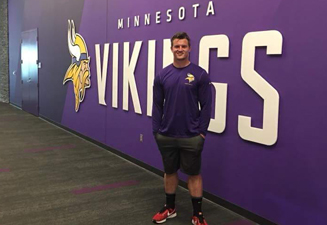 April 5, 2018
Quentin Lake follows father Carnell to UCLA, but seeks his own legacy
Mater Dei standout Quentin Lake is making it happen at UCLA. Last season, Quentin was routinely among the last UCLA players to depart the practice field. He would linger for extra work pushing a tackling sled or perfecting the technique that he hoped would allow him to disrupt receivers once he gained a more prominent role. The sophomore will be a big part of the defense this fall.
April 1, 2018
Beau Hossler Finishes 2nd in Houston Open!!
What a great performance by our local golf prodigy this week! Beau played an incredible 4 days of golf at the Houston Open only to lose the Championship by a mere 1/2 ball putt on the 18th! Although he lost to a very experienced Ian Poulter in the single hole playoff, Beau showed great maturity and poise during a very great run. Congrats to Beau on a great tournament; many more to come!!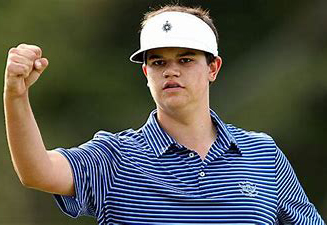 March 27, 2018
SMCH School Hockey Team Wins Division 1 National Championship!!
Thanks to a last minute overtime goal by Leevi Selanne, SMCHS secured their National Championship!!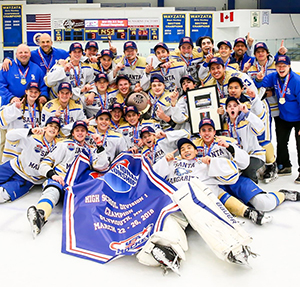 March 18, 2018
Devon Modster takes reins as UCLA QB, talks new offense, life without Rosen
The four-star QB from Tesoro HS in Rancho Santa Margarita had originally committed to Arizona but changed his commitment to UCLA 2 years ago. Now he is the leading candidate to replace Josh Rosen as the starting QB for 2018.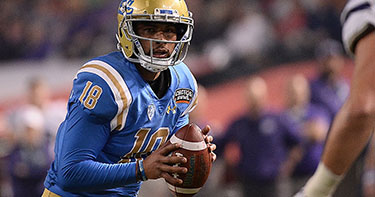 March 17, 2018
Lake Placid, NY
Princeton Wins ECAC Hockey Championship with OT Goal From OC Star Max Becker!!
Orange County's hockey phenom Max Becker scored the Golden Goal 2:37 into OT against top ranked Clarkson University at the Herb Brooks Arena in Lake Placid, N.Y. Princeton men's hockey concluded its improbable run to the ECAC championship with an overtime 2–1 victory over Clarkson. Senior forward Max Becker scored the game-winning goal at the 2:37 mark in the overtime period, giving Princeton its first ECAC championship since 2008 and an automatic bid to the NCAA tournament.
February 2, 2018
"Roth's goal was just the third the Lions have conceded this season."
RANCHO SANTA MARGARITA – Knocking off JSerra's girls soccer team was supposed to be an impossible task this season, but Santa Margarita had a formula to do so, and the Eagles followed it with tremendous verve in Thursday afternoon's Trinity League title decider.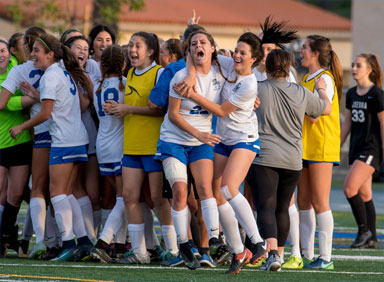 January 13, 2018
OC's Own Christian Ramirez Invited to Mens National Soccer Team Camp
Ramirez is a forward with Minnesota United FC in the MLS. He is currently training daily about 20 minutes away from his hometown of Santa Ana, Calif. and his Concordia University of Irvine soccer team. The 6-2 striker is one of 15 players in MNT camp looking for their first cap.
January 10, 2018
Dr. Scott Graham is named to the 2018 Orange Coast Top Doctors
Once again, congrats to SCOS Orthopedic Specialists Sports Medicine Surgeon Dr. Graham on being named one of the Top Doctors in all of Orange County for 2018.
"It is an honor to again be nominated and selected to this group of excellent physicians and included in the list of best orthopedic surgeons in Orange County. Thank you to the selection committee for this honor."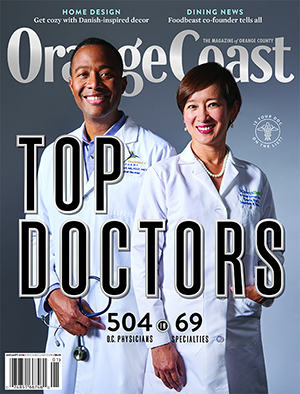 December 19, 2017
Local SMCHS Football Player signs new contract with the Denver Broncos for 2018!! Congrats River!!!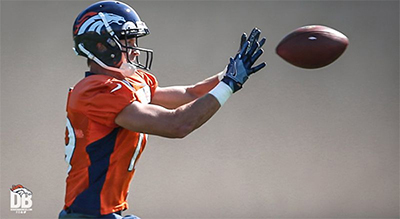 December 1, 2017
SMHS Girls Volleyball Team Dominates Division 1 Playoffs by winning Title!!!
ORANGE – Santa Margarita's girls volleyball team exploited its height advantage at the net, controlled the ball well and got outstanding play from its back line, leading to a 25-19, 25-12, 25-13 sweep of Logan High of Union City in the CIF State Division I final Friday at Santiago Canyon College.
November 29, 2017
Yes! RB Jeremy McNichols makes the active 49ers roster!!
When the Buccaneers drafted running back Jeremy McNichols in the fifth round of this year's draft, there were some who wondered if a good showing this summer could put him in contention for a role with the team while Doug Martin was suspended to open the year.
November 26, 2017
Stanfords KJ Costello has awesome 4 passing TD's against Notre Dame!
Two weeks ago, Notre Dame was on the precipice of a College Football Playoff berth. Two losses in three games later, the Fighting Irish have ended their 2017 regular season with a whimper.
K.J. Costello threw four touchdowns and Stanford's defense forced three turnovers as the Cardinal pulled away in the fourth quarter for a 38-20 win Saturday at Stanford Stadium.
November 24, 2017
JP, Elite Hockey Players Return to the Ice
JP was 15yo in May 2017 when he injured his right knee ACL while cross-training. As an elite hockey player, he and his family were extremely worried about his future. He played for the LA Jr. Kings 2015 U14 team and then in 2016 moved to Minnesota to play at Shattuck St. Mary's for their U16 team as a forward. It was here in the spring that he was injured.
He flew back home to see specialist Dr. Scott Graham for evaluation and treatment. He was able to have an MRI that same day, the diagnosis confirmed and a plan formulated. He underwent arthroscopic ACL reconstruction without complications two weeks later. On a progressive protocol, he excelled post-operatively. His physical therapy was with noted skating therapist Chris Phillips at Compete Sports Performance and Rehab. With everyone working together for JP's full return, he was back on the ice by 2 ½ months focusing on a full recovery and return to hockey. By 5 ½ months, JP was back to playing competitive hockey with his team. Congrats JP on your return!!
Shattuck-St. Mary's in Minnesota is the"Hogwarts of Hockey," and being"to hockey what Harvard is to law." In total they have 24 USA Hockey National Championships. The school has also gained a reputation as their players go on to compete at the highest levels of collegiate and Junior League Hockey, and in numerous cases the NHL and the Winter Olympics.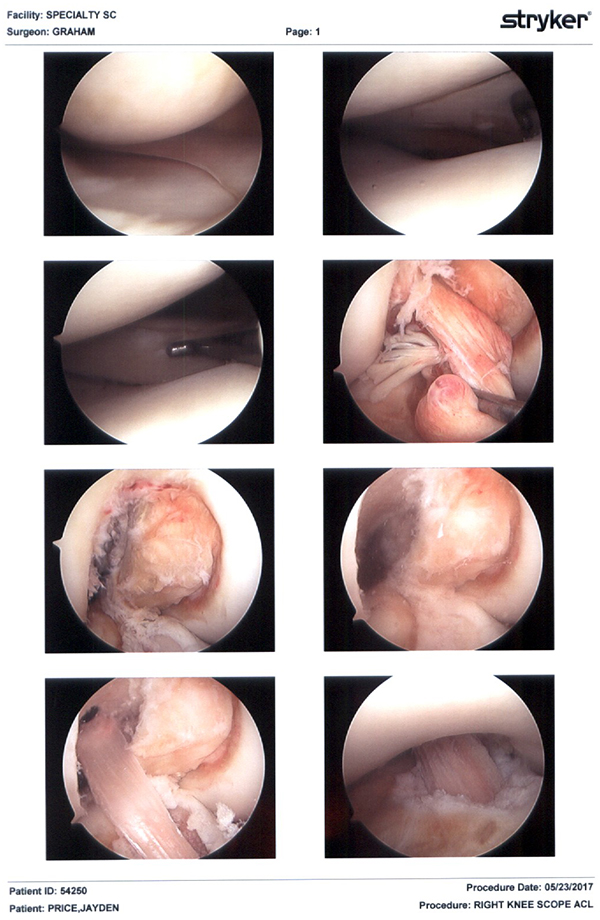 November 13, 2017
#80 Oklahomna Sooners Grant Calcaterra gets 3rd TD reception against TCU as a true freshman!
Grant Calcaterra pulls down touchdown pass from Baker Mayfield to extend Oklahoma lead over TCU
Grant Calcaterra pulls down a 13-yard touchdown pass from Baker Mayfield to give OU a 17-7 lead.
November 10, 2017
Ryan Wolpin is THE MAN on the Blue Turf!
He is Boise State's 'Tornado' in the backfield. And his path just made him stronger.
If there is any agreed-upon description of what makes a"Boise State guy," senior running back Ryan Wolpin checks all the boxes.
November 4, 2017
Johnny Stanton leads UNLV over Hawaii with 2 passing TD's.
The question throughout the week was who would start at quarterback, and the answer was Johnny Stanton, who provided a dramatic statement for UNLV.
He completed 18 of 26 passes for 244 yards and two touchdowns and rushed for a TD, and the Rebels' defense held off a late Hawaii drive in a 31-23 victory Saturday at Sam Boyd Stadium.
October 17, 2017
River Cracraft signs with the Denver Broncos!
The player wearing No. 19 for the Denver Broncos this Sunday should look familiar to Washington State fans.
River Cracraft, the former Cougars receiver whose prolific college career in was cut a few games short by an ACL tear last season, inked a deal with the NFL club on Tuesday. Cracraft announced the news on Twitter.
September 4, 2017
Running Back Jeremy McNichols become a 49er!
Rookie running back Jeremy McNichols will get a second chance after signing with the San Francisco 49ers practice squad, per Mike Garafolo of NFL Network.
McNichols was a 2017 fifth-round pick by the Tampa Bay Buccaneers but struggled during the preseason and was waived during the final round of cuts. He went unclaimed on waivers before signing with the 49ers Sunday.
August 17, 2017
He's passed, he's caught, he's punted – Washington State's Kyle Sweet a jack of all trades
Kyle Sweet was throwing footballs when he arrived at Santa Margarita High School in 2011. By 2012, he was catching them. Now he's punting them. He can do it all at WSU!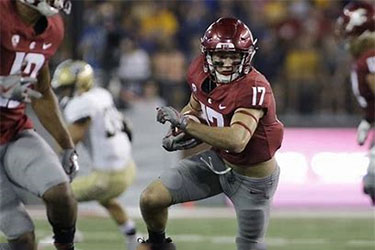 August 17, 2017
WSU Football player Kyle Sweet does it all!
Kyle Sweet was throwing footballs when he arrived at Santa Margarita High School in 2011. By 2012, he was catching them. Now he's punting them.
Throughout his football career, Sweet, a junior at Washington State, has seemingly done everything short of line up at nose tackle. But he'd probably oblige if asked.
April 24, 2016
2016 NFL Draft player profile: USC offensive lineman Max Tuerk
While USC has had a couple of disappointing seasons recently, they have a number of intriguing and versatile prospects in the 2016 NFL Draft. One is offensive lineman, Max Tuerk. A Santa Margarita High School standout offensive lineman.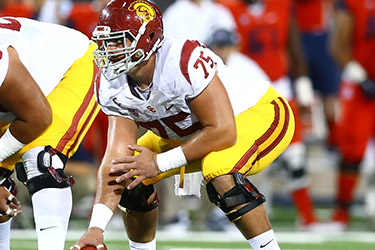 March 29, 2016
LA KISS ANNOUNCE NEW ESTEEMED MEDICAL DIRECTOR DR. SCOTT GRAHAM FOR THE 2016 SEASON
Los Angeles, CA (March 29th, 2016) –The LA KISS are happy to announce Dr. Scott Graham as the new Medical Director and Medical Doctor for the LA KISS Arena Football Team. Dr. Graham is on the Board of SCOS Orthopedics, which is a specialty Orthopedic Medical Group in Orange County.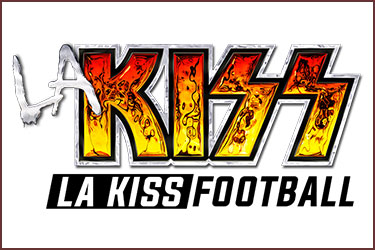 January 29, 2016
UW Huskies lineman Dane Crane announces retirement, citing injuries
"After 16 amazing seasons, it is time to say goodbye to the game I love the most," Crane wrote."I'm saddened that my body couldn't stay in the game as long as my mind would have liked to, but I wouldn't change a thing. I'm an Irvine Charger, Santa Margarita Eagle, and a Washington Husky for life. Time for the next chapter!"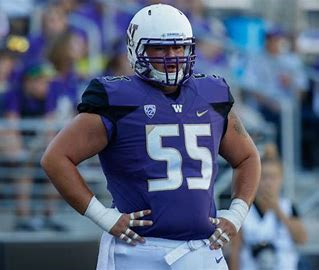 2015
May 5, 2015
Dr. Graham Wins SCCA Western Conference Majors GT3 Race
Dr. Graham wins the top podium position in the SCCA GT3 class at Buttonwillow Raceway this past weekend in his SCOSORTHO sponsored Mazda RX-7!!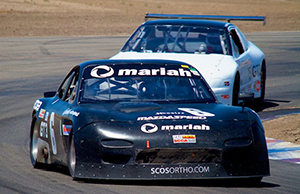 February 4, 2015
WSU football recruiting: WR Kyle Sweet officially signs letter of intent
Kyle Sweet gave WSU coaches a verbal commitment back in December and solidified further after his January visit, staying with high school teammate, River Cracraft. The consensus 3-star prospect made his commitment officially on Wednesday when he signed his Letter of Intent.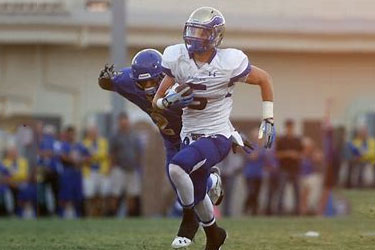 2014
July 31, 2014
BOOM! 3* Defensive End Rick Wade Commits to UCLA!!
UCLA defensive coaches Adrian Klemm and Angus McClure land a commitment from Rick Wade, a 3* Defensive End from Santa Margarita Catholic High School in Orange County.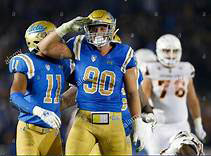 Scott Graham, M.D. Named to physician of Excellence 2014 List
Every year the Orange County Medical Association (OCMA) conducts an extensive survey of the region's top doctors in a wide range of medical fields. The goal of the OCMA's list is to provide patients with the names of the best doctors who are known as some of the most accomplished and caring. Each physician is rated on the leadership they demonstrate, the teaching and mentoring they provide, the research they conduct and the humanitarian efforts to which they are committed. This year, the OCMA named 425 doctors in 61 specialties to its Physicians of Excellence list. Dr. Graham was named to the 2014 list in the area of Orthopedic Surgery and Sports Medicine. This is the second year in a row Dr. Graham has been honored.
April 26, 2013
NFL Draft 2013 results: Gavin Escobar selected by Cowboys with No. 47 overall pick
Former Santa Margarita Catholic HS and SDSU tight end was drafted in the 2nd round by the Dallas Cowboys. With the No. 47 overall pick in the 2013 NFL draft, the Dallas Cowboys selected San Diego State Aztecs tight end Gavin Escobar. Escobar is the No. 40-rated player in the draft rankings from SB Nation's Dan Kadar and the third-rated tight end.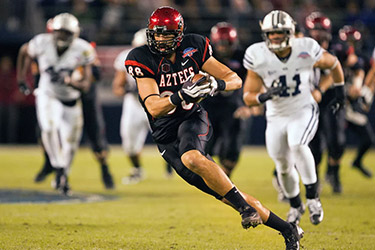 January 2013
Dr. Graham included in OCMA 'Top Doctors"
Dr. Graham was selected as one of the Orange County Medical Associations" Top Doctors of 2013 in Orthopedic Surgery as seen in Orange Coast Magazine Jan 2013.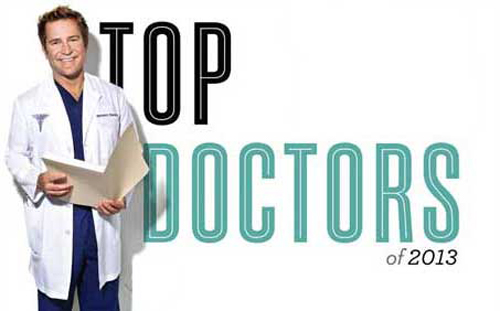 February 3, 2013
The Comeback Kid: Stanton's rehab is paying off!!
"Just heard from Santa Margarita head coach Harry Welch that Johnny Stanton's knee surgery was a complete success today. The operation was performed by Santa Margarita Catholic team physician Dr. Scott Graham. Coach Welch said,"in the doctor's words, everything went perfect, Johnny will make a 100% recovering and he'll be as good as new."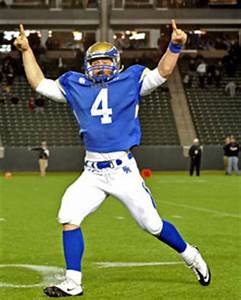 Sept 15, 2012
Dr. Graham Receives Subspecialty Certification in Orthopedic Sports Medicine
Scott Graham MD, a board certified orthopedic surgeon for South County Orthopedic Specialists, has recently added to his credentials by receiving Subspecialty Certification in Orthopedic Sports Medicine. This certification means he is one of the few Sports Medicine Orthopedic Surgeons who has achieved the highest level of proficiency in Sports Medicine as defined by the American Board of Orthopedic Surgery.
The requirements to take the rigorous Orthopedic Sports Medicine Certification examination are submission of surgical and nonsurgical cases of specific sports injuries in addition to peer recommendations. The nationwide examination was given last November, and Dr. Graham was recently notified that he has successfully passed the test.
"Board certification is an important yardstick to determine the quality of a practicing physician, and I have been board certified in Orthopedic Surgery since 2003. This Subspecialty Certification denotes proficiency in the specialized area of Sports Medicine within Orthopedics. Becoming Subspecialty Boarded was a natural extension of my 10+ years of working with professional, Olympic, collegiate and high school athletes."
August 9, 2012
Four Time Olympic Athlete Wins GOLD!!! 2012 USA Womens H2O Polo Player Heather Petri Wins Gold!!!
2000 Sydney/2004 Athens/2008 Beijing/2012 London
LONDON — The United States won its first gold medal in women's water polo, getting five goals from Maggie Steffens and a sterling performance from goalkeeper Betsey Armstrong en route to an 8-5 win over Spain on Thursday.
June 15, 2012
SMCHS Senior Hossler is Killing it in the First Round of the US Open!! He is Beating Woods and Speith!!
SAN FRANCISCO – As quick as Tiger Woods grabbed the U.S. Open lead he lost it. To a 17-year-old qualifier, no less.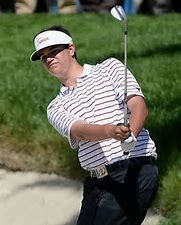 April 30, 2012
Dane Crane commits to Washington
Santa Margarita junior center Dane Crane (6-3, 295) has committed to Washington, he said in a text message Sunday night. Crane also had offers from Colorado, San Diego State, Florida State and Arizona. Crane is the 4th rated center in America.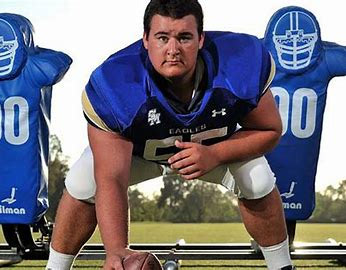 May 18, 2012
Orange County's own 17yo Nyjah Huston wins 150K winning the opening contest of the Street League Skateboarding tour!
KANSAS CITY, Mo. (AP) - Nyjah Huston won the opening contest of the Street League Skateboarding tour and top prize of $150,000.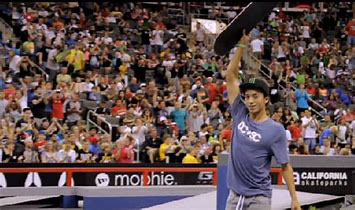 January 12, 2012
Football: All-CIF 2012 teams are released; Johnny Stanton and Chris Frost Players of the Year!
Quarterback Johnny Stanton and defensive end Chris Frost, both from Santa Margarita, have been selected the offensive and defensive players of the year in the Pac-5 Division.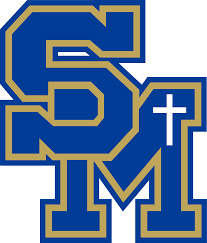 November 21, 2011
Football: Chazz Roberts becomes defensive stopper for Tesoro
"Chazz Roberts is a man playing with boys," Barnes said."He has been a tremendous football players for us for three years. He's going to have a hell of a year again this year and we're going to miss him next year, but hopefully we'll have him 13, 14 more games with him this year."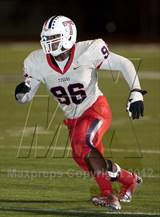 November 14, 2011
Concordia's own Christian Ramirez is Honored by ESPN
Concordia Soccer player: A perfect 10
As the college soccer season hits its stretch drive, let's take a look at some of the most dominant players in Southern California this year, no matter the division.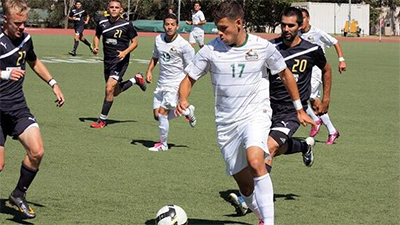 January 10, 2010
Mark Sanchez and Carson Palmer go way back
Both Palmer and Sanchez played football for Santa Margarita and USC, Sanchez following in Palmer's footsteps. Sanchez, whose brother Brandon was Carson's teammate in high school, served as the ball boy for the Eagles when Carson was a high school star. Sanchez was just 9 years old when he was fetching balls and water for Palmer.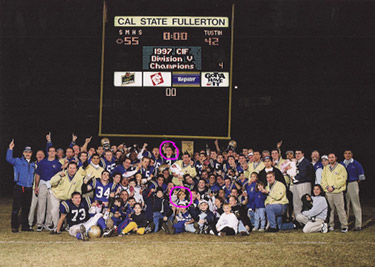 In this photo, former Santa Margarita High standout Carson Palmer, circled just under the crossbar, celebrates with his fellow Eagles after winning the 1997 CIF-Southern Section Division V football championship. Circled just below was a young ball boy. His name? Mark Sanchez. Notice Team Physician Dr. Wroble far left.