Media
December 1, 2017
SMHS Girls Volleyball Team Dominates Division 1 Playoffs by winning Title!!!
ORANGE – Santa Margarita's girls volleyball team exploited its height advantage at the net, controlled the ball well and got outstanding play from its back line, leading to a 25-19, 25-12, 25-13 sweep of Logan High of Union City in the CIF State Division I final Friday at Santiago Canyon College.
November 29, 2017
Yes! RB Jeremy McNichols makes the active 49ers roster!!
When the Buccaneers drafted running back Jeremy McNichols in the fifth round of this year's draft, there were some who wondered if a good showing this summer could put him in contention for a role with the team while Doug Martin was suspended to open the year.
November 26, 2017
Stanfords KJ Costello has awesome 4 passing TD's against Notre Dame!
Two weeks ago, Notre Dame was on the precipice of a College Football Playoff berth. Two losses in three games later, the Fighting Irish have ended their 2017 regular season with a whimper.
K.J. Costello threw four touchdowns and Stanford's defense forced three turnovers as the Cardinal pulled away in the fourth quarter for a 38-20 win Saturday at Stanford Stadium.
November 13, 2017
#80 Oklahomna Sooners Grant Calcaterra gets 3rd TD reception against TCU as a true freshman!
Grant Calcaterra pulls down touchdown pass from Baker Mayfield to extend Oklahoma lead over TCU
Grant Calcaterra pulls down a 13-yard touchdown pass from Baker Mayfield to give OU a 17-7 lead.
November 10, 2017
Ryan Wolpin is THE MAN on the Blue Turf!
He is Boise State's 'Tornado' in the backfield. And his path just made him stronger.
If there is any agreed-upon description of what makes a "Boise State guy," senior running back Ryan Wolpin checks all the boxes.
November 4, 2017
Johnny Stanton leads UNLV over Hawaii with 2 passing TD's.
The question throughout the week was who would start at quarterback, and the answer was Johnny Stanton, who provided a dramatic statement for UNLV.
He completed 18 of 26 passes for 244 yards and two touchdowns and rushed for a TD, and the Rebels' defense held off a late Hawaii drive in a 31-23 victory Saturday at Sam Boyd Stadium.
October 17, 2017
River Cracraft signs with the Denver Broncos!
The player wearing No. 19 for the Denver Broncos this Sunday should look familiar to Washington State fans.
River Cracraft, the former Cougars receiver whose prolific college career in was cut a few games short by an ACL tear last season, inked a deal with the NFL club on Tuesday. Cracraft announced the news on Twitter.
September 4, 2017
Running Back Jeremy McNichols become a 49er!
Rookie running back Jeremy McNichols will get a second chance after signing with the San Francisco 49ers practice squad, per Mike Garafolo of NFL Network.
McNichols was a 2017 fifth-round pick by the Tampa Bay Buccaneers but struggled during the preseason and was waived during the final round of cuts. He went unclaimed on waivers before signing with the 49ers Sunday.
August 17, 2017
WSU Football player Kyle Sweet does it all!
Kyle Sweet was throwing footballs when he arrived at Santa Margarita High School in 2011. By 2012, he was catching them. Now he's punting them.
Throughout his football career, Sweet, a junior at Washington State, has seemingly done everything short of line up at nose tackle. But he'd probably oblige if asked.
2014
Scott Graham, M.D. Named to physician of Excellence 2014 List
Every year the Orange County Medical Association (OCMA) conducts an extensive survey of the region's top doctors in a wide range of medical fields. The goal of the OCMA's list is to provide patients with the names of the best doctors who are known as some of the most accomplished and caring. Each physician is rated on the leadership they demonstrate, the teaching and mentoring they provide, the research they conduct and the humanitarian efforts to which they are committed. This year, the OCMA named 425 doctors in 61 specialties to its Physicians of Excellence list. Dr. Graham was named to the 2014 list in the area of Orthopedic Surgery and Sports Medicine. This is the second year in a row Dr. Graham has been honored.
January 2013
Dr. Graham included in OCMA 'Top Doctors"
Dr. Graham was selected as one of the Orange County Medical Associations" Top Doctors of 2013 in Orthopedic Surgery as seen in Orange Coast Magazine Jan 2013.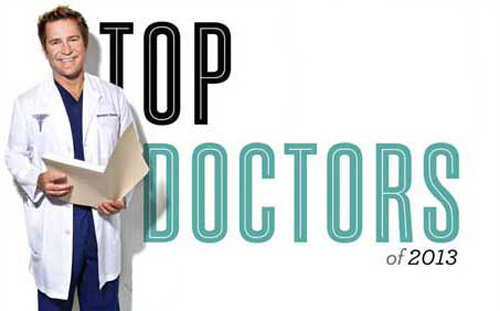 Dr. Graham Receives Subspecialty Certification in Orthopedic Sports Medicine
Scott Graham MD, a board certified orthopedic surgeon for South County Orthopedic Specialists, has recently added to his credentials by receiving Subspecialty Certification in Orthopedic Sports Medicine. This certification means he is one of the few Sports Medicine Orthopedic Surgeons who has achieved the highest level of proficiency in Sports Medicine as defined by the American Board of Orthopedic Surgery.
The requirements to take the rigorous Orthopedic Sports Medicine Certification examination are submission of surgical and nonsurgical cases of specific sports injuries in addition to peer recommendations. The nationwide examination was given last November, and Dr. Graham was recently notified that he has successfully passed the test.
"Board certification is an important yardstick to determine the quality of a practicing physician, and I have been board certified in Orthopedic Surgery since 2003. This Subspecialty Certification denotes proficiency in the specialized area of Sports Medicine within Orthopedics. Becoming Subspecialty Boarded was a natural extension of my 10+ years of working with professional, Olympic, collegiate and high school athletes."
August 9, 2012
Four Time Olympic Athlete Wins GOLD!!! 2012 USA Womens H2O Polo Player Heather Petri Wins Gold!!!
2000 Sydney/2004 Athens/2008 Beijing/2012 London
LONDON — The United States won its first gold medal in women's water polo, getting five goals from Maggie Steffens and a sterling performance from goalkeeper Betsey Armstrong en route to an 8-5 win over Spain on Thursday.